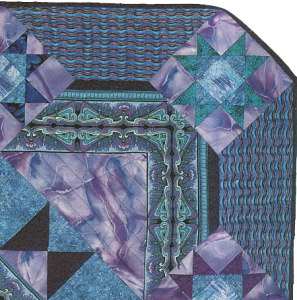 I love to sew with border print fabrics, which are created by printing a series of decorative borders along the length of fabric (I've seen a few printed crosswise, from selvage to selvage, but those prints are in the minority.
The entire width of each border motif can be used by itself, or cut apart to focus on a specific section that works with a quilting project. Use the prints to create borders for a quilt, or cut sections of the motifs in ways that, when patches are sewn together, resemble a kaleidoscope.
I used a border print to sew the inner borders of the quilt shown to the right. Like-motifs match-up at the mitered borders, creating a continuation of the design.
Take a closer look, and learn more about using border prints in quilts.