Use Border Prints in Quilts for a Kaleidoscope Design
The inner border of this quilt was created with a border print, a special type of fabric that usually has several stripe-like motifs printed side-by-side along the lengthwise grain. Stripes are typically coordinated, but are nearly always of different widths to offer plenty of options for placement in your quilts.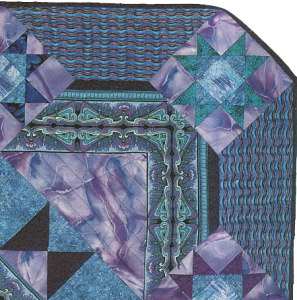 The border print strip in my quilt is mitered at each end, which means it is cut at an angle — like the corners of a picture frame. Before cutting the miters, I cut two (longer than necessary) straight border strips from the fabric and placed them right sides together, making sure the strips were aligned so that their printed motifs matched each other perfectly.
The careful placement and angled cut gave me two border strips that were mirror images of each other. When sewn together along the angled edges the mirror images came together to form a kaleidoscope effect. Remaining strips were cut using the same method.
The entire wallhanging is shown below. I assembled the center medallion with four mirror image triangles cut from the same border print, sewing them together to make a kaleidoscope "blossom."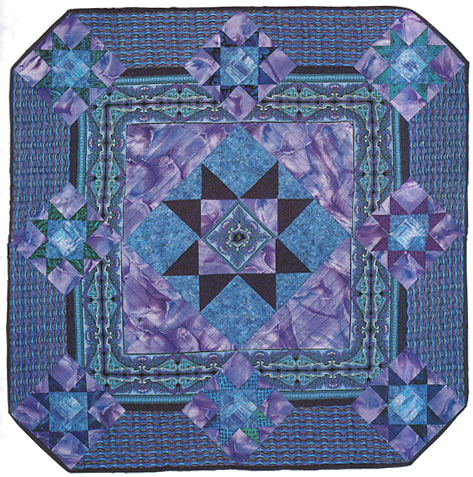 You can see that the print in my border strips ends at the same place in all four corners. That's fairly easy to do with a square quilt, but can be tricky with a rectangular design, because the length of the top and bottom borders isn't the same as the length of side borders — so they end in different spots. I made my match-up even easier by inserting on-point star blocks between border segments all around the quilt to break up the length of the border print.
You'll find border prints from many fabric designers, but Jinny Beyer is sometimes considered the Queen of border prints — and is definitely a master of color. The border print in this quilt is one of her designs.
The instructions for this quilt are in my book Quick Little Quilts. It's out of print, but usually available from Amazon resellers. I'm also printing the pattern on my Quilting site at About.com and will update this page with the link as soon as it's ready to view.
Articles to Help You Choose Fabrics for Your Quilts
Color Wheel Simplified
Color Value for Quilters
©Janet Wickell