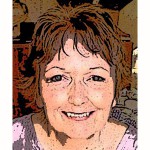 ScrapQuilts.com is owned by Janet Wickell, a long-time quilter who has authored and edited many quilting books over the years. Since 2006, Janet has also written About.com Quilting, one of the Web's largest quilting sites.
Janet was the freelance author for eight out of ten books in Rodale Press's Classic American Quilt Series, and contributed to many other Rodale quilting books, along with books and patterns by additional publishers. Her other books include Quick Little Quilts, the About.com Quilting Guide, Dollhouse Miniatures and Teach Yourself Quilting.
Janet lives in the Blue Ridge mountains of western North Carolina, where she co-owns a real estate agency, practices esthetics and massage therapy, and creates palm-free hand crafted soaps. Yep, it's a mixed bag.
To email Janet, copy and paste: janet.wickell@gmail.com