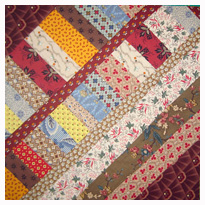 String quilting is a super easy technique that's absolutely perfect for a scrap quilt.
Even though their fabrics vary, string layouts can be somewhat structured, like the block shown here, or sewn in an entirely random way. String blocks can also be cut into triangles (or other shapes) after sewing to create lots of variety when they're re-assembled into a quilt.
The pattern for this quilt block is published on my other quilting web site, About.com Quilting, along with general instructions to help you create additional string projects. Give the technique a try the next time you want to make a simple, stash-busting quilt.