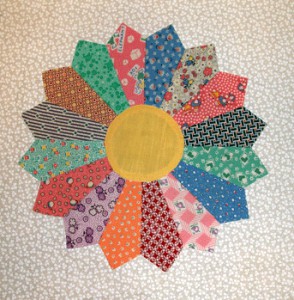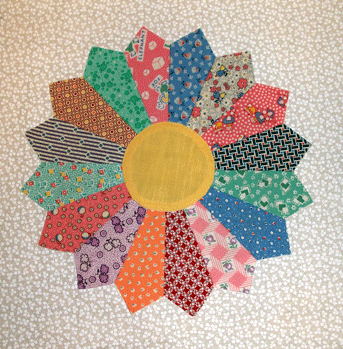 I wrote this easy Dresden Plate quilt block pattern for Joy, one of the hostesses in our Quilting Forum — she's hostessing a swap for the scrappy quilt blocks.
Don't worry about turning under the points of those blades as you work — not going to happen. This easy Dresden Plate method zaps that task away and makes it easy as pie to sew the blocks.
Follow Joy's guidelines if you'd like to be in the swap, or use a totally different set of fabrics if you plan to work on your own. And you know what… this is so easy that you might just find yourself making multiple Dresden Plate quilts. I'd love to see one made with bright fabrics against black or navy blue. Or in the watercolor style, with florals that melt into each other. Or maybe even with batik fabrics.
Quilt blocks finish at 12″ x 12″.
Easy Dresden Plate Quilt Block Pattern
Quilt Block & Photo by Joy